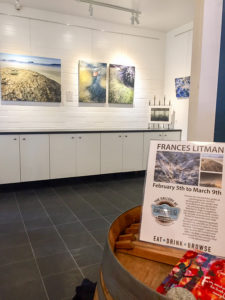 Thank you to Alice Bacon and John Carswell of the Brentwood Bay Village Emporium for the opportunity to be the featured artist in their beautiful gallery/coffee emporium. With the help of artist Jennifer Witvliet, 14 of my images are up in a fabulous space dedicated to showcasing local artists until March 7th. They also have live music evenings.
Click here for event details.
Photography and art lovers are in for a special treat this Sat., Feb. 11th.
The Creatively United for the Planet Society presents The Gift of Change, an inspirational multi-media show featuring the stunning imagery of one of Canada's most awarded landscape photographers, the late Courtney Milne.
Tickets are just $35 and that includes admission to the gallery, this incredible program and lovely edibles. Sat., Feb. 11th, 6:30-8:30 pm, at The Robert Bateman Centre, where I also have a piece in the Boxed Sanctuary show continuing until Feb. 28th.
Tickets and details can be found here