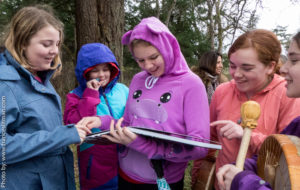 Thanks to the Times-Colonist and Victoria News for the excellent coverage this week of the book presentation I made on behalf of Creatively United for the Planet Society.
The book, Stepping Into Nature, captures the spirit of community collaboration, volunteerism and documents how Rockheight's students became more in touch with nature and the importance of greening their school through photography, video and the arts.
It was wonderful to see my vision come to life and have Rockheights Middle School green their facilities at the same time. In addition to my photographs and writing, the book features a fine inclusion of student work ranging from writing, cartoons and artwork and photos.
A professional video also documents the story and can be found on the Creatively United for the Planet Society website.
Creatively United for the Planet is a registered not-for-profit society best known for staging an annual free community all-ages Earth Week festival in Victoria, BC on the last weekend in April attended by more than 9000 people since 2012 and has teamed up with other organizations like The Robert Bateman Centre to deliver creative environmental education that is publicly and freely accessible.